At Canberra Bodyworks, our focus is on quality, our processes, and training our staff.
We believe our deep commitment to these elements is non-negotiable and that's because we know that you want to have your vehicle back to looking its best.
That all means you'll get the best repair, using leading technology and equipment, applied by well-trained and supported staff.
Since 1996, the Australasian Paint & Panel Awards shine the spotlight on those who excel in the field of autobody repair. Canberra Bodyworks is proud to have been recognised for our dedication to excellence and customer service.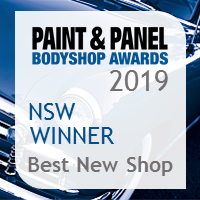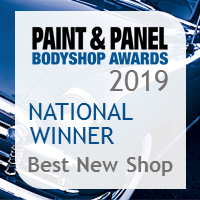 If you speak to us first, we can coach you through the process and information needed for your insurer to approve us.
Or, if you would like us to reduce the stress even more, and liaise directly with your insurer on your behalf, all we need from you is the claim number and we can take it from there.
24/7 towing service for the Canberra and surrounding region.
Business Hours: 02 6297 5000
After Hours: 0411 259 945
Our friendly team is ready and waiting to help make repairing your car as painless as possible. Whether you have a minor question about how we can help, or you are ready to book a quote for repairs, simply contact us.
I always prefer a local firm. Particularly one so professional.
— Wayne, via Mobile Survey
I had my car repaired by bodyworks. I could not be happier with the service provided. I was given a day and my car was ready on that day. Thank you to the team at body works for looking after me and my vehicle in a very stressful situation.
— Lorrain, via Google
Will be publishing an article for the BMW club and referring anybody looking for a quality repair.
— Bernie, via Mobile Survey
Had my VW Amarok repaired after cleaning up a roo. Fantastic service. Perfect repair job. So easy to deal with.
— Mel, via Google
Great repairers, fantastic service and really easy to deal with, A1
— Paul, via Mobile Survey
First impressions count and the staff made a lovely first impression.
— Measa, via Mobile Survey
Thank you for making my car look brand new again I love it. Cheers and merry Christmas
— Jo-Anne, via Mobile Survey
Professional and friendly company. My car was repaired on time and they did an amazing job. Couldn't be more happier.
— Tilda, via Google
Thank you to everyone at CBW for looking after me throughout the repairs of my car. I WILL definitely refer my friends to you.
— Gillian, via Mobile Survey
I can not fault Canberra Body Works..from day one they got my car back to being able to drive it with the help of cable ties. They promised the car in 4 days and delivered. I got the car back in perfect condition and spotless as well. Staff were great. Thanks and keep up the great work…
— Angelina, via Google
Arrived at 0700 to find the premises open. Was meet by a friendly gentleman who arranged to have my vehicle brought out of the workshop. I thought I was too early and to my surprise was catered for very quickly and was on my way. No complaints at all. Would recommend this business to one and all. Initially I was told my car would be ready on the 9th of October and to your word it was. Cheers and thank you.
— Andrew, via Mobile Survey
Excellent. Very professional and honest and upfront.
— Andrew, via Google
When I see a yard full of Mercs & Porsches I Know this is a serious bodyshop. Very happy with repairs. Thanks.
— Raphael, via Mobile Survey
Awesome repair shop, went through them as an AAMI repairer for damage to my VW and the wait time was well worth it, the car honestly looks brand new where it was damaged. They were able to source the same aftermarket parts that were affected as well. Paint and shut lines match perfectly. Car was also very clean when I picked it up, and service was fantastic! Highly recommend!
— Antoni, via Google
Impressed how you knew more details about our insurance policy than our actual insurer.
— Lorena, via Mobile Survey